With a focus on Google and Yahoo, we provide services such as Search Engine Optimization for search engines, and third-party PPC advertisement managing for listing advertising and display advertising.
We also propose effective measures depending on the scale and styles (BtoB/BtoC) of client business and the merchandise they want to promote.
Present condition analysis
Present condition hearing
Website analysis using site analysis tools such as Google Analytics/Webmaster Tools
Issue Analysis
Raising issues
Setting goals
Proposing solutions
Presenting an improvement plan
Making an estimate
Perform/Monitoring
Performing measures
Monitoring of KPI
Regular tuning
Proposing continuous site improvement
SEO consulting
SEO Consulting are measures taken with the aim of raising the rank of natural searches (organic search) when you search particular keywords in Google and Yahoo.

At present, such traditional ways of the increasing the number of site clicks and Backlinks (Incoming Links) have become relatively ineffective measures, while on the other hand, measures that provide useful site content for users who are searching for them are becoming more effective.
It is vital to implement measures and policies according to the trends of the search algorithm of the Google search engine, which controls the majority of the search engine market share and is updated day by day. Therefore, we make proposals in correspondence to these current trends.
Third-party PPC advertisement
PPC (Pay Per Click) advertising is advertisement that determines price based on individual user clicks. With PPC advertising, listing advertising (search interlocking advertisement) displays the advertising area on the top and the right end of the pages relating to the keywords that the user has searched, and display advertising (contextual advertising) displays the banner image relating to the user's interests when a user opens a particular page. Promotion advertising for Yahoo and Google Adwords are famous for those.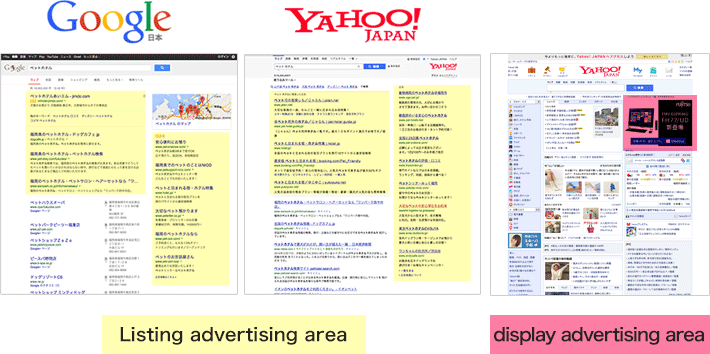 The things vital to PPC advertising are account consideration in accordance to the merchandise (campaign/advertisement group), consideration of keywords in accordance to the merchandise and the examination of the targeting method, and focusing on these measures to operate while making improvements in the PDCA cycle.